Relaxed check-in for guest and hotelier
With gastrodat PreCheckIn, you send the guest a link that takes them to their guest file. Here they can check, complete and confirm the data they entered when booking.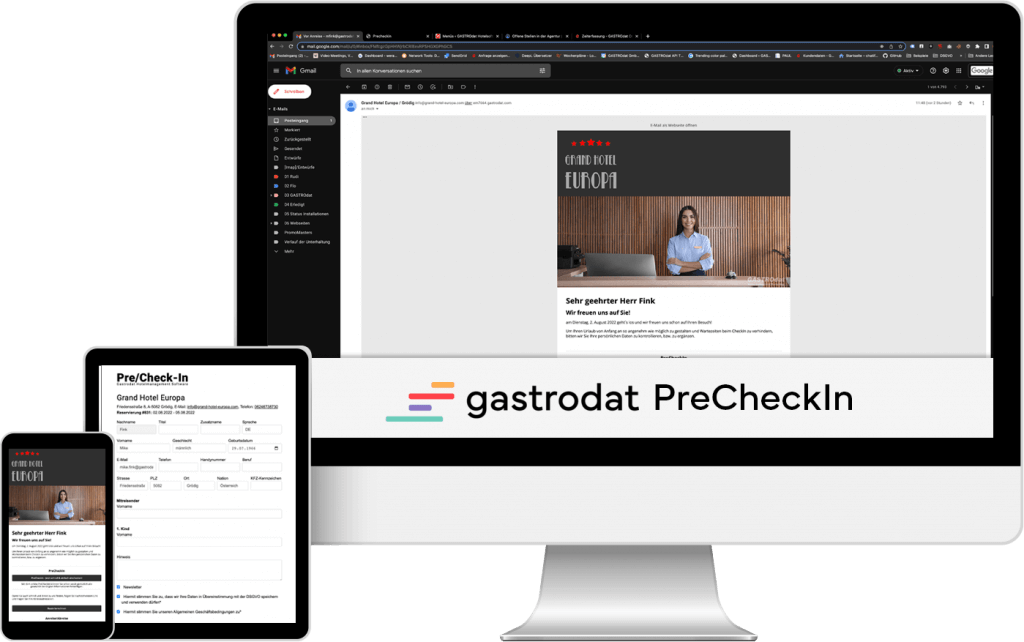 gastrodat PreCheckIn
You can send the invitation to check and complete the guest file simply and elegantly via the info mail before arrival or integrate it into the digital reservation of gastrodat CorrespondenzManager. Alternatively, this can also be done directly at the reception via tablet or smartphone.
As soon as the guest has filled out the form, the data is imported fully automatically into the gastrodat hotel software and assigned directly to the respective reservation. As a result, no incorrect and incomplete data ends up in your guest file, but is always up to date.
With the Check In Tool from gastrodat you successfully avoid long waiting times at the reception.
The guest can immediately enjoy the stay in your house without bureaucratic obstacles. As an extension to the basic data, you can enter valuable additional information such as special preferences or wishes, which you can then use for marketing measures.
The gastrodat Check In tool for hotels can be optimally combined with the advantages of the gastrodat EGB, the electronic guest sheet of your hotel management software.
The guest confirms the pre-printed data on the check-in sheet with his digital signature. This goes into your filing system. The registration itself takes place fully automatically with the gastrodat electronic guest sheet to your registration office.
Tip: With our web-based software extension gastrodat 2go, you can also access PreCheckIn on the go!
The prerequisite is the combination with the check-in app (CIA).