Your reliable hotel software for all types of accommodation.
Simplify your hotel management and relieve your staff with hotel software from gastrodat.
Daily recurring tasks determine the image of every accommodation business. The heart of a reception is the Property Management System (PMS) with all its facets: graphically designed room management, guest index, invoicing, cash book, statistical evaluations and much more. Digitization not only stops paper waste, but also enables mobile access to the hotel software with its features with the add-on gastrodat 2go.
gastrodat – the complete digital solution for successful landlords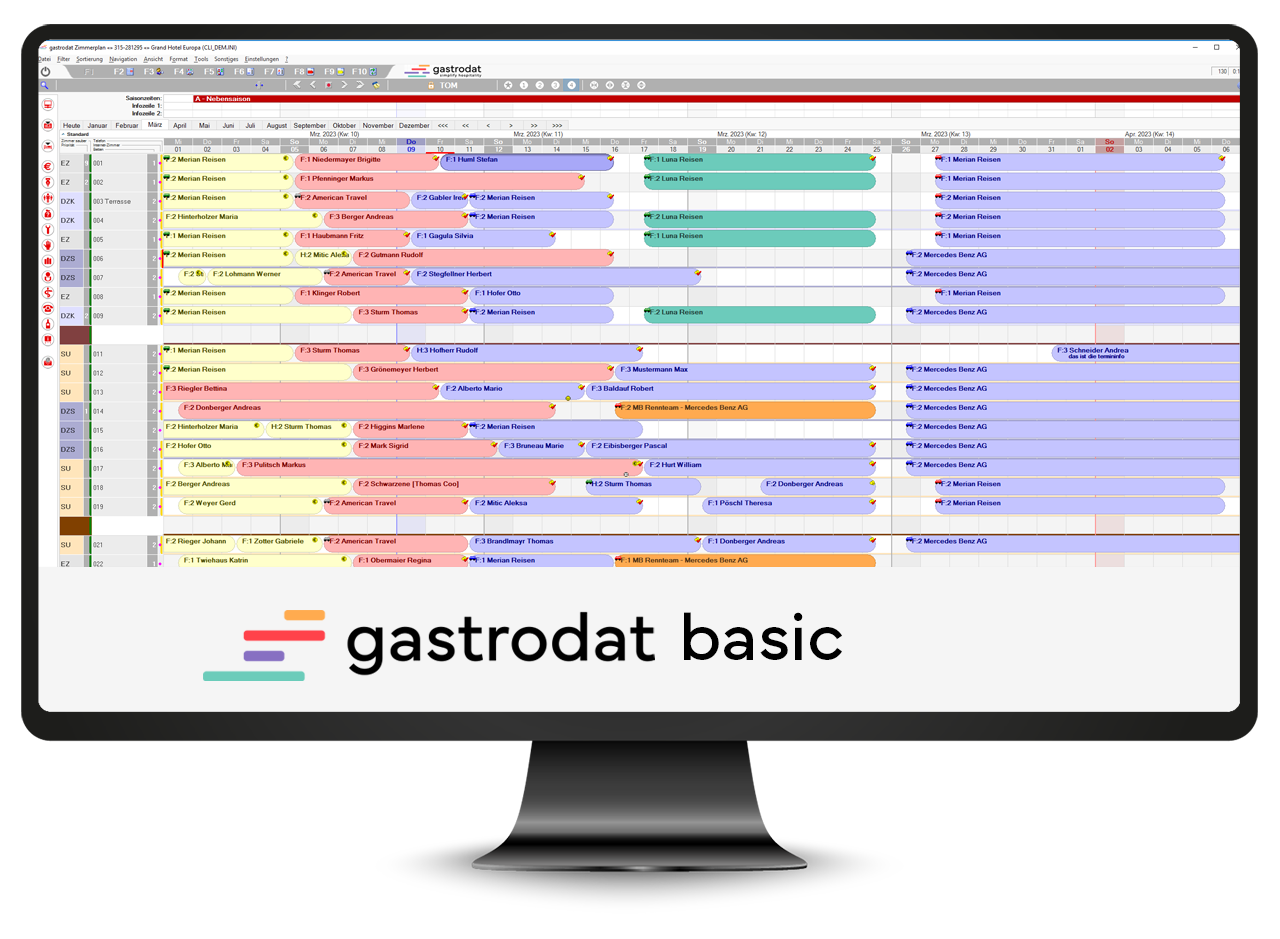 gastrodat basic
Room management

Guest index

Invoice

Serial letter

Cash book

Lists & evaluations

User administration

Debtor management

Group administration

Contingent management

Mail management

DSGVO compliant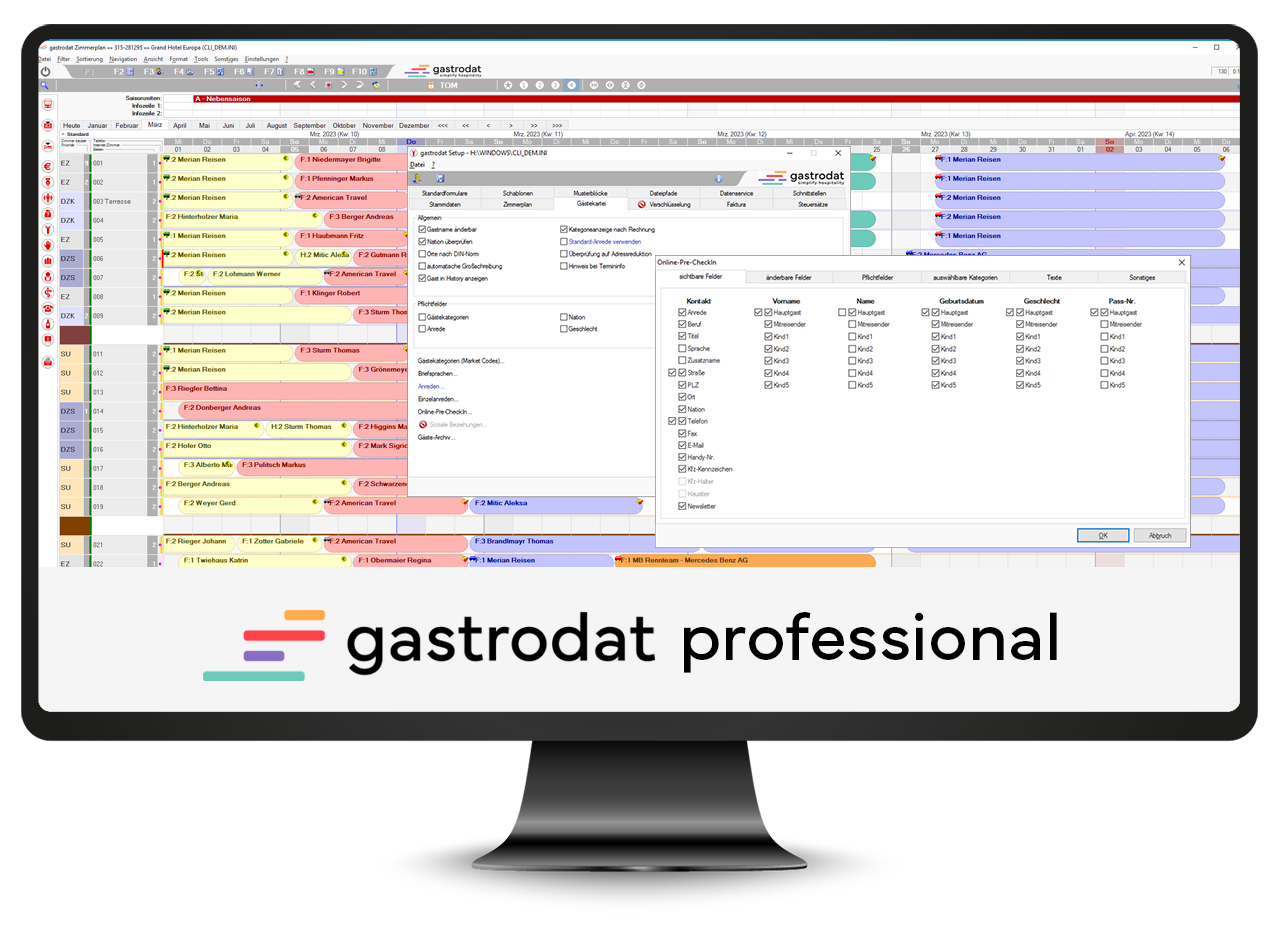 gastrodat professional
Room management

Guest index

Invoice

Serial letter

Cash book

Lists & evaluations

User administration

Debtor management

Group administration

Contingent management

Mail management

DSGVO compliant
Additional
5 workstations (clients) + cash register network
Frequently asked questions about gastrodat hotel software
How long is the contract period of the gastrodat Property Management System (PMS)?
We want to convince you of our quality and ability, therefore the term is set at three years. Since the Front Office hotel software is extensive, give yourself some time to test all the features and use them perfectly.
Can I change a package during my contract period?
You can upgrade the hotel software "gastrodat basic" to "gastrodat professional" at any time. To do so, please contact your sales partner or directly to sales@gastrodat.com
Is training needed to use the booking system?
Training courses are offered with the purchase of gastrodat hotel software. These can take place either remote or on site. Since the property management system offers extensive tools, you will need training to take advantage of all the benefits.
In addition, our Knowledge Base is available free of charge, where you will find helpful videos and comprehensive descriptions of the hotel management software.
Is a minimum number of rooms required for gastrodat's front office hotel software?
No, gastrodat is made for accommodation businesses of all types and sizes. Through a consultation with our sales partners, the optimal solution can be found for any size of business.
How can the data from an old software be entered into gastrodat's new Property Management System (PMS)?
Numerous data such as the guest file, history, room master data or future bookings are imported by our IT experts into the reception management of gastrodat, so that you can start immediately with the same data status and a short briefing.
Which extensions are available?
gastrodat offers a range of additional modules for digital guest communication: CorrespondenceManager, OnlineBooking, GapManager, ChannelManager and various interfaces. For more information please contact directly sales@gastrodat.com
Do you offer support? At what times can I reach the support?
Yes, if you have questions or problems, our IT experts from the support team are available 365 days a year. Our dedicated Customer Care staff will also be happy to address your concerns. Please send an e-mail to support@gastrodat.com or call us directly at +43 6246/73873. Your inquiries will be processed within 12 hours.
Does gastrodat's property management system comply with the principles of proper accounting (GoBD)?
In the highly competitive market, there are dozens of seemingly inexpensive products that promise to make life easier for accommodation providers. When making your choice, you should make sure that at least the principles of the GoBD are fulfilled.
Our gastrodat staff will be happy to explain all the necessary details to you.
Can I connect additional modules or interfaces to the Property Management System (PMS) afterwards?
Of course! The hotel software can be extended by a wide range of products and interfaces. Due to the modular structure, you have an individualized PMS that is tailored exactly to your and your accommodation business' needs. You are completely free to choose the connections and also benefit from a "one-stop" system.
How will I be informed about updates and how will they be applied to my laptop, PC or server?
Since the gastrodat hotel software solution is constantly being further developed, updates are created at regular intervals. These updates are automatically installed free of charge after official release – or manually if you wish. They do not affect your workflow in any way, because they are installed outside of operating hours and in just a few minutes. Our gastrodat newsletter informs you about upcoming updates and innovations.
On which operating system the hotel program of gastrodat runs?
Basically, a local installation is made on your laptop, PC or server. These run on Windows or virtual Windows servers. This makes the Property Management System also usable on Mac OS or similar.
How important is the GDPR?
Since 25.05.2018, the General Data Protection Regulation (DSGVO) applies. This is the legal regulation for the protection of personal data. All businesses that process the personal data, such as name, address, IP address, location or similar, are affected. This does not only affect the website, but also you as an accommodation business and the hotel software connected to it. Landlords work with guest management, invoicing, bookings with personal data, etc. and are therefore also subject to the GDPR.