Direct – Commission-free – Simple
gastrodat provides you with the OSP OnlineBooking, with which you can reliably keep the reins in your own hands when marketing rooms and are independent of commission-hungry online platforms.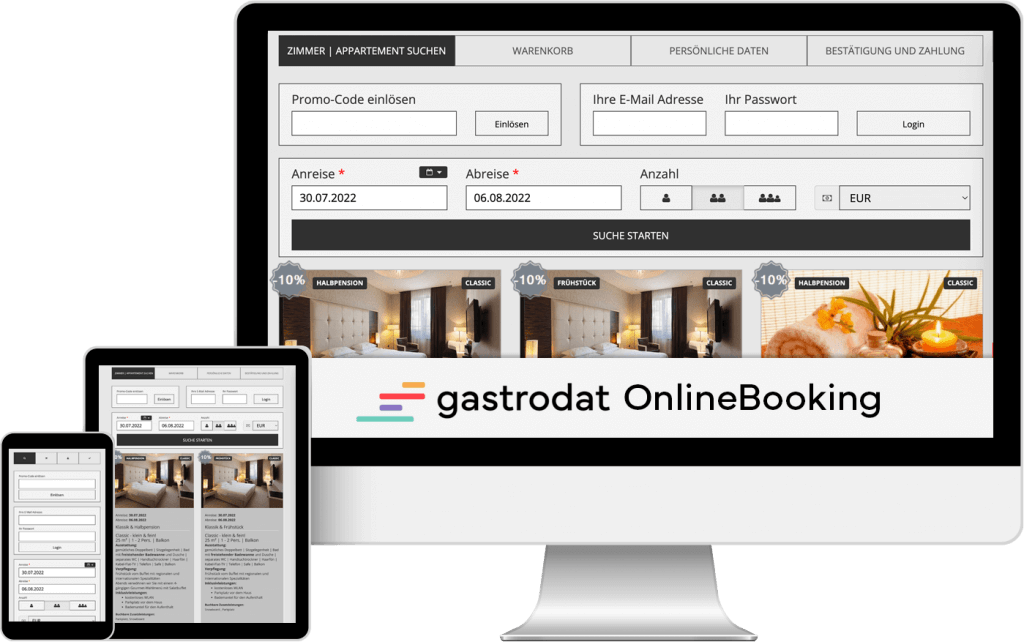 gastrodat OnlineBooking
With gastrodat OSP OnlineBooking, guests book directly and around the clock via your accommodation website.
There are no commissions for you!
Adding a picture and text to every room, every service and also specially bookable additional services – it has never been so easy!

The highlight is that all data such as (children's) prices, packages, seasonal periods, pictures, descriptions, long-term discounts, short-stay supplements – in other words, everything – comes from a single source, directly from gastrodat hotel software.
Room vouchers, restrictions for fixed arrival and departure days as well as minimum length of stay, blocking dates, promotions, promo codes and guest login are functions that are easily and quickly entered and guarantee only bookings that you really want.
Other highlights are alternative periods and cross-selling.
The system automatically recognises the additional services that can be booked and offers them during the booking process.
From massages and ski courses to parking and carriage rides. Depending on the person, length of stay and period of stay, you can control exactly what your guests can treat themselves to in addition.
Guest bookings are transferred to your room schedule in real time, so there are no further steps for you, because a booking confirmation is sent to the guest by e-mail fully automatically. The appointment therefore already blocks the right room and the booked services including additional services – error-free and in real time!
Frequently asked questions about gastrodat online booking