Ratings at a new level
After departure, send your guests an info mail from our MarketingManager with the individual link to the RatingManager. This can be designed graphically with pictures and questions.
The RatingManager recognises the result fully automatically and reacts with a response text defined by you. You control the text multilingually depending on the result of the rating.
In the last window, the guest sees the answer defined by you and can follow any links set (e.g. Facebook, Instagram, Holidaycheck, etc.). In the case of particularly good or critical reviews, you can have an automated message sent to you so that you can react as quickly as possible.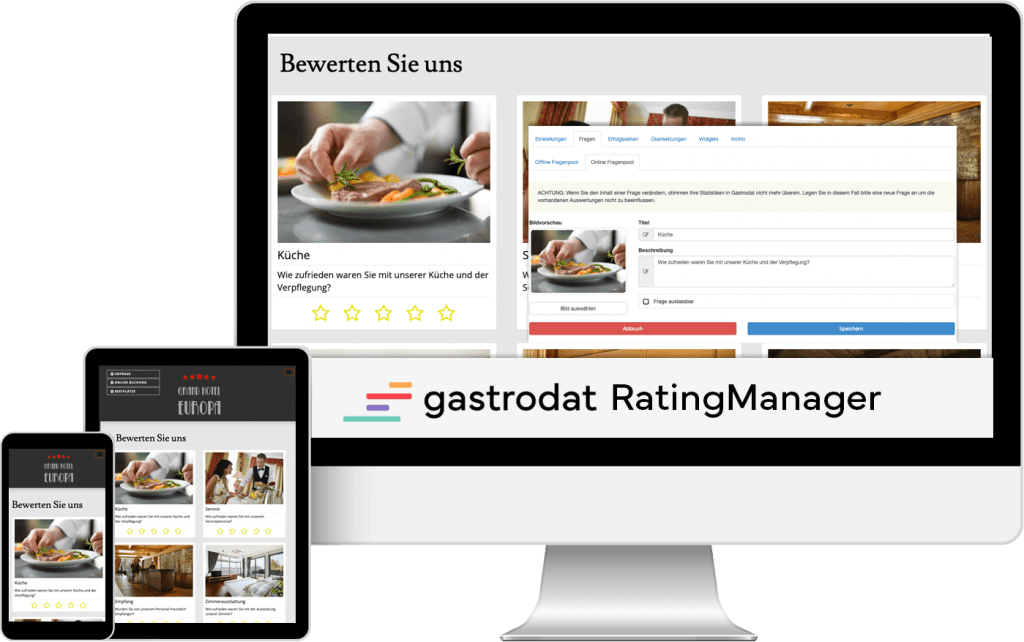 gastrodat RatingManager
Analyses and allocation
The submitted ratings including comments are automatically imported into your gastrodat hotel programm and assigned to the appointment and the guest. You have all the information in the right place and in full overview.
Through statistical analysis, you get a quick overview and know where there is potential for improvement. Clear evaluations through filters per question, by guest origin, room category, guest age and comments are part of the analysis. In addition, you can use positive guest reviews as valuable recommendations for your marketing and display them on your website.