Solution-oriented – clear – goal-oriented
The MarketingManager is the fully integrated gastrodat solution – clear, with little effort and adapted to your needs.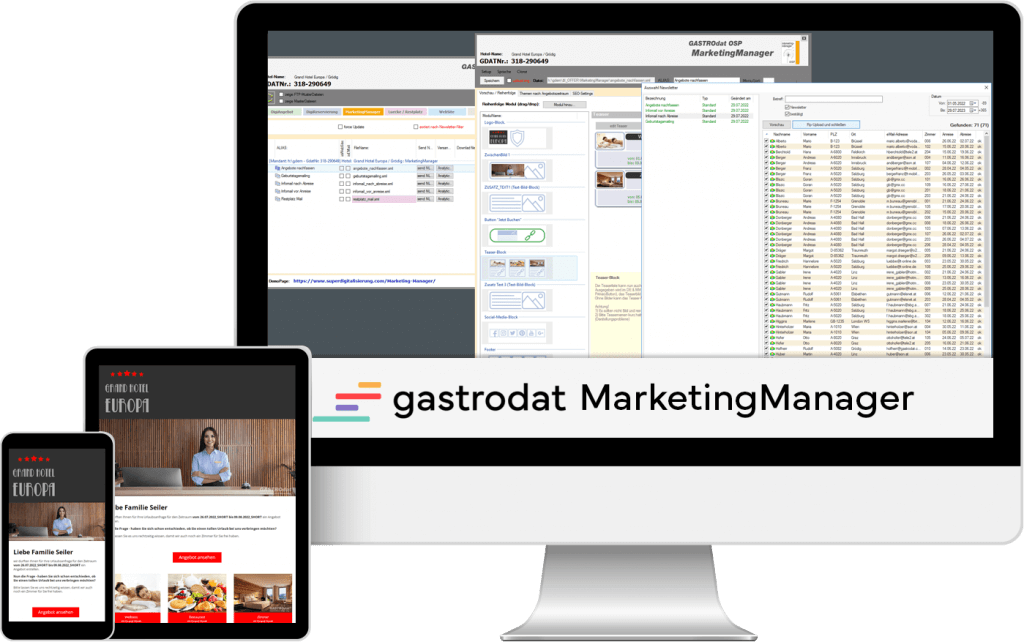 gastrodat MarketingManager
When was the last time your guests were in the house?
With your self-created filters, you quickly gain valuable insights. In addition, you can derive marketing measures and target customer groups.
With little effort, you select your target group and use the filter for the next mailing as well. You quickly customized the templates, which means your information is always up-to-date.
Highlights include pre-departure and post-departure info emails, as well as the birthday mailing and the ability to follow up on your offers with ease:
Infomail before arrival:
Select the guests who should receive your infomail from the arrival list with self-defined time period.
Surprise them with information about your check-in and check-out times, an integrated automatic route calculation as well as the implemented PreCheckIn to collect missing guest information.
Infomail after departure:
If you want to thank guests for their stay and deepen customer loyalty, the post-departure infomail is just the thing. Conjure up a smile on the guest's lips with your set up templates in just a few clicks.
"Thank you for your stay. We appreciate your feedback." Here you have the possibility to use the feedback function of the gastrodat RatingManager.
Birthday mailing:
Directly from the guest file without additional effort to valuable customer loyalty.
Everyone is happy when their own special day is not forgotten.
Show interest, arouse positive feelings and strengthen the bond of the guest to your house.
Follow up offer:
Gain a quick overview of the open offers through the ready-made filters.
The guest no longer has the offer? No problem!
With the integrated button "View offer" every guest has again the possibility to view and book the already received offer again.
Frequently asked questions about gastrodat MarketingManager